Willem Dafoe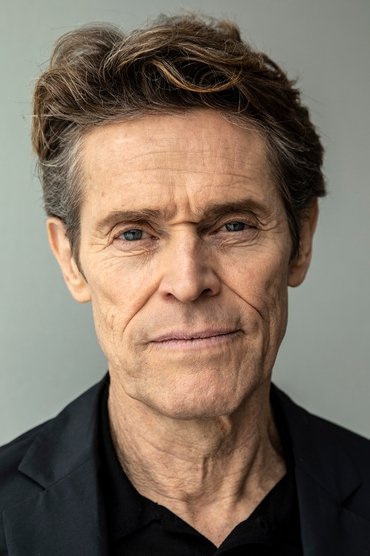 William James "Willem" Dafoe (born July 22, 1955) is an American actor. He is known for his distinct gravelly voice, and has received multiple accolades, including nominations for four Academy Awards and three Golden Globe Awards. He has frequently collaborated with filmmakers Paul Schrader, Abel Ferrara, Lars von Trier, Julian Schnabel, and Wes Anderson.
Dafoe was an early member of experimental theater company The Wooster Group, where he acted in several productions. He made his film debut in Heaven's Gate (1980), but was fired during production. He had his first leading role in the outlaw biker film The Loveless (1982) and then played the main antagonist in Streets of Fire (1984) and To Live and Die in L.A. (1985). He received his first Academy Award nomination for his role as Sergeant Elias Grodin in Oliver Stone's war film Platoon (1986). In 1988, Dafoe played Jesus in Martin Scorsese's The Last Temptation of Christ and starred in Mississippi Burning, both of which were controversial. Following small roles in Born on the Fourth of July (1989) and Wild at Heart (1990), he began a six-film collaboration with director Paul Schrader with the drama Light Sleeper (1992). He starred in the critically panned erotic thriller Body of Evidence (1993) and then co-starred in Clear and Present Danger (1994), The English Patient (1996), Speed 2: Cruise Control (1997), and The Boondock Saints (1999).
After receiving his second Academy Award nomination for portraying Max Schreck in Shadow of the Vampire (2000), Dafoe played Norman Osborn in the superhero film Spider-Man (2002), the villains in Once Upon a Time in Mexico (2003) and XXX: State of the Union (2005), and Carson Clay in the film Mr. Bean's Holiday (2007). In 2009, he starred in the experimental film Antichrist, one of his three films with Lars von Trier. Dafoe then appeared in The Fault in Our Stars, John Wick, The Grand Budapest Hotel (all 2014), The Great Wall (2016), Murder on the Orient Express (2017), The Florida Project (2017), for which he received his third Academy Award nomination, Aquaman (2018) and The Lighthouse (2019). He has also had voice-over roles in Finding Nemo (2003), its sequel Finding Dory (2016), and Fantastic Mr. Fox (2009), voice and motion capture roles in John Carter (2012) and Death Note (2017), and vocal contributions to the video games Spider-Man (2002), Finding Nemo (2003), James Bond 007: Everything or Nothing (2004), and Beyond: Two Souls (2013).
Dafoe has portrayed several real-life figures, including T.S. Eliot in Tom & Viv (1994), Pier Paolo Pasolini in Pasolini (2014), Vincent van Gogh in At Eternity's Gate (2018), for which he received an Academy Award for Best Actor nomination, his first in that category, and Leonhard Seppala in Togo (2019). Dafoe has dual citizenship of the United States and Italy.
Description above from the Wikipedia article Willem Dafoe, licensed under CC-BY-SA, full list of contributors on Wikipedia.
Known For

Acting

Born

Place of Birth

Appleton, Wisconsin, USA