Barbara Hale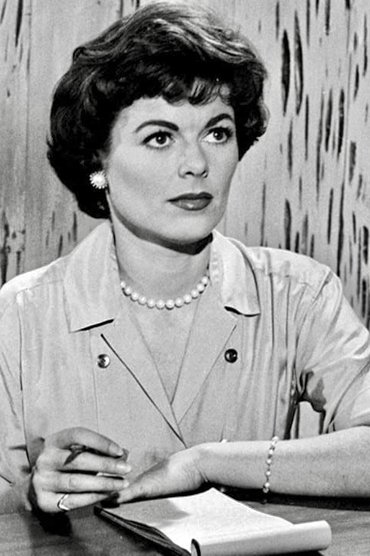 Barbara Hale is an American actress best known for her role as legal secretary Della Street on more than 250 episodes of the long-running Perry Mason television series and later reprising the role in 30 made-for-TV movies.
Hale was born in DeKalb, Illinois, to Luther Ezra Hale, a landscape gardener, and his wife, Wilma Colvin. She is of Scots-Irish ancestry. Hale graduated from high school in Rockford, Illinois, then attended the Chicago Academy of Fine Arts, planning to become an artist. Her performing career began in Chicago when she started modeling to pay for her education. She moved to Hollywood in 1943, and made her first screen appearances playing small parts (often uncredited).
Hale was under contract to RKO Radio Pictures through the late 1940s. She appeared in Higher and Higher (1943) with Frank Sinatra; played leading lady to Robert Mitchum in West of the Pecos (1945); enjoyed top billing in both Lady Luck (1946) opposite Robert Young and The Window (1949) with Arthur Kennedy; and co-starred in Jolson Sings Again (1949), with Larry Parks playing Al Jolson and Hale as Jolson's wife, Ellen Clark. She played the top-billed title role in Lorna Doone (1951) and portrayed Julia Hancock in The Far Horizons (1955) with Fred MacMurray and Charlton Heston.
Her flourishing movie career more or less ended when Hale accepted her best known role, Della Street, secretary to attorney Perry Mason, in the TV series with Raymond Burr. The show ran from 1957 to 1966, and she reprised the role in several television movies. Her last performance to date was in 2000 at age 78. In 1967 she guest starred on the ABC series Custer. Hale also had a featured role in the 1970 ensemble film Airport, playing the wife of a jetliner pilot (Dean Martin).
Known For

Acting

Born

18 April 1922

Place of Birth

DeKalb, Illinois, USA

Died

26 January 2017

(aged 94)